Reserve online
Hotel Villa Morgagni Rome
and save with our discounted rates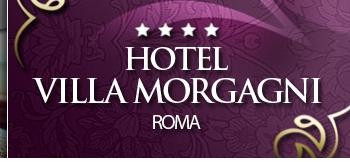 Hotel Villa Morgagni is an elegant refined hotel found in a beautiful Liberty style villa in the heart of Rome. The building dates back to the 19th C. and has been completely rebuilt and remodelled offering comfortable, cosy surroundings.

Found in the university area of the city, the villa offers a perfect, strategic position, to reach all the interesting and famous sights. A metro stop is just steps away from the hotel and a car park is available.

The hotel is ideal for both business travellers and vacationers coming to Rome. There is a meeting room perfect for organizing meetings and small conference. We also offer the ideal place for guests to come and relax; a steam room, sauna, bar and lounge room.
Give us your Feedback
Hotel Villa Morgagni, Via G.B. Morgagni, 25 - Rome